Richard and Helena Smalman Smith : Atlantic Row 2011-12
DREAMED IT, DID IT! Crossing complete: 75 days, 1 hour, 29 minutes. See http://atlanticdouble.wordpress.com/ for their blog.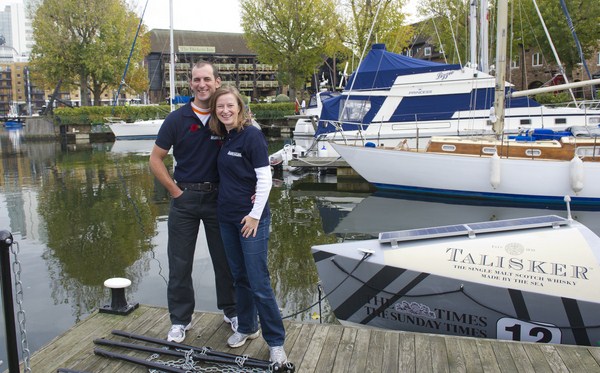 Just a week to go now until the intrepid Richard and Helena Smalman Smith set off to row the Atlantic in their boat, Didi (Dream It, Do It) in the world's toughest rowing race. They will be racing as the Tiger Team - you'll have to read their website to find out the reason for the name. Details of their itinerary, key links and how to contact them during the voyage are given below together with the words of "Go Didi", sung to Richard and Helena at the recent Sherriff Night.
KGSVBC wish them the very best of luck. We will be posting news of them periodically on this website - though for more up to date information please use the links in the updates section below.
| | | | |
| --- | --- | --- | --- |
| Tiger Team logo | &nbsp | | Didi in the front garden! |
The Itinerary:
| | |
| --- | --- |
| Nov 19th | Kingston Small Boats Head Ė one final fling in our racing singles! |
| Nov 20th | Fly to Canaries to make final preparations for the Talisker Whisky Atlantic Challenge |
| Dec 4th | Scheduled start to rowing south-west from La Gomera (Canaries) |
| Dec 25th | Yes, still rowing, hopefully now going due west with a nice tailwind! |
| Jan 9th | Term starts, but we will still be rowing, maybe approaching halfway. |
| Feb 13th | Half-term, but we will still be on the ocean, possibly nearing the end. |
| Feb 28th | Target date for arrival in Barbados. It could be even later than this.... |
Click on the links to go to the relevant web pages.
Once the race has started, the organisers, Woodvale, will update a dedicated race site www.taliskerwhiskyatlanticchallenge.com which will include a map showing the progress of each crew as a different coloured blob. Positions are updated every 6 hours. Ocean rowing really can be a spectator sport! Look for the boat Dream It Do It (aka Tiger Team).

Via our Blog atlanticdouble.wordpress.com We aim to update this once a day while we are at sea. If you subscribe to this by email, you will be emailed as soon as we post an update. You can make comments in response to our postings, but please note that we won't be able to read these ourselves till we get back (though we will greatly enjoy doing so then). If you ask any questions in your comments, they should be answered by our friends Eric and Lisa, or possibly Chris Martin (not from Coldplay, but from Hampton!).

Via our Facebook page. This will be updated twice a week or more often if anything dramatic happens, by Chris Martin, based on the content of our recent blogs. These will naturally be more concise update than the blogs. And probably more accurately typed as well.

PLEASE ALSO send us messages (for free!) via a special website - however trivial or silly. Any news or other updates very welcome. However, sadly, we will not directly reply to these messages except publicly on our blog. Hereís how: Visit http://messaging.iridium.com. There you can enter our sat phone number (+8816 3159 1236) and then a text message of 160 characters. This does not cost you anything to send, and doesn't cost us anything to receive either - we will get them when we turn the phone on which will only be for short periods.

Words from Go Didi as sung at Sherriff Night 2011
(To be sung to the tune of Greased Lightning. Words by Roland Wales. Richard and Helena Smalman Smith had been presented with hats, complete with KGSBC logo,and industrial quantities of suncreamjust before the song.
Why this journeyísÖÖmystifying
no - itís death-defying,
no - itís terrifying
so look outÖ. itís DiDi!

Gonna set out in December when the winds are nice and light oh yeah (Keep rowing, just keep rowing)
Watch out for the whales, because theyíll give you such a fright, oh yeah, (Keep baling, just keep bailing)
Though your rowing might be good, donít forget that awful food
Better watch out for the sun and the blisters on your...hands
Go DiDi

Go go DiDi, youíve gotta go 3,000 miles (Go DiDi, letís go DiDi)
Go, go DiDi, donít go near the Scilly Isles, (Go DiDi, letís go DiDi,)
Watch out for sores, in the Azores, Go DiDi
Itís gonna take a while, but weíre sure youíll get there in the end ÖÖ.
But keep out of the sunshine, or it might just drive you round the bend ÖÖ..
You can assure us all of that, if youíll only wear this hat
Donít turn to crackling on the ocean by applying suntan lotion
Go DiDi

Go, go DiDi, but watch out when you navigate, (Go DiDi, letís go DiDi),
Donít end up in the Falklands or go near the Magellanic Strait, (Go Didi, go go Didi)
Ignore that paean, To things Verdean,
Go DiDi

Go, go DiDi, but make sure that the sun donít broil, (Go DiDi, letís go DiDi)
Go, go DiDi, and splash on lots of suntan oil, (Go Didi, letís go DiDi)
Donít take the risk-y, Of gettiní crispy
Go DiDi